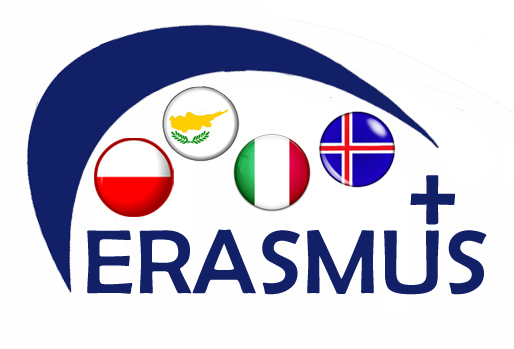 The second Erasmus+ project meeting
The second international meeting of all partners involved in the project "By developing competencies of teaching staff, we develop the creativity in children and youth" took place between 16th and 20th of May 2016 in Warsaw (Poland). The meeting was organized by the project leader: the Non-public Youth Educational Centre in Węgrzynów and was attended by representatives of all partner institutions.
The project partners are:
· Parents Association of Agios Spiridonas Special School- a special school run by the association of parents of Larnaca on Cyprus,
· Technical School of Limassol - technical vocational school in Limassol on Cyprus,
· Reykjavik Miðberg Fristundamidstodin- an institution which organizes after-school activities for children and youth in Reykjavik (Iceland),
· Istituto Comprensivo Via F.S. Nitti Rome - a group of educational institutions consisting of a elementary school and a lower secondary school in Rome (Italy)
· the Board of Education in Kielce- a Polish partner.
In the meeting, the Project Leader was represented by the Director of the Centre, educators and experts cooperating with the Centre.
The project partners were represented by those involved in the project in the partner organizations.
On May 17, 2016. Meeting was honored by the presence of the Education Superintendent of Świętokrzyskie Voivodeship Mr. Kazimierz Mądzik.
During the meeting, activities of the project which were realized in each partner country were discussed in details.
Much attention was devoted to summarize the work on the first intellectual result and implementation of activities related to the creation of the second result.
The dissemination of activities of the project (events in the project) at every stage of its implementation was especially emphasized. The leader and partners were working on the proposals for dissemination of the project in their countries. Interesting projects have already taken place in the partner organizations.
Tasks for the upcoming months have been planned.
Participants also visited our capital city, its monuments and interesting places. The meeting was documented on photographs.
The next step for the partner organizations is the first training session, which is scheduled for the autumn of this year in Cyprus.
Project Management Team
Co-funded by the Erasmus+ Programme of the European Union
Tagi:
Erasmus+
PROJEKT
frse